Each Monday morning, I adjust a small matrix in the corner of the whiteboard in my office with the accumulated totals of weeks since Wine (233), Spirits (109) and Beer (20). I do so with a sense of elation, relief and cold realism, for I know I was, and may remain until I snuff it, an alcoholic or, to guild a lily, a reformed alcoholic …
I was born in 1960 and grew up in north-east England, where breweries produce beer on a mass scale to quench the thirst of the industrial grafters. At home, during festive times and family gatherings there was 'drink' to go with meals. Aged four, I was given my first taste of beer in a small whisky glass bearing the name of the 'Scottish & Newcastle Breweries', its Blue 'Star' logo emblazoned on the shell. The beer was from a yellow party can. A little lime cordial was mixed with my beer. I loved it, and over the years I was given this treat at special times and in doing so, became aware of alcohol, yet I can't recall ever being seduced by the buzz nor being, addicted to the taste.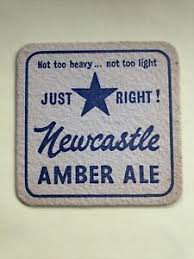 From what my late mother has stated many times, I never walked. I ran everywhere and that included around our spacious home and regularly into obstacles too. I ran as a teen and played a lot of soccer, yet running was, and remains, a safety valve. Solitude and the pursuit of challenging myself have always allowed me to feel a sense of freedom and self-effacement. 
Being fit and ambivalent about alcohol because I had never been shielded from its taste or availability at home, I eschewed the drinking culture of my school friends, and again at university. I didn't need alcohol as fuel or stimulation. Academically, I was bright enough to gain an education in the medical field as a technologist and, aged 23, I left home to take up a very lucrative two-year contract with an American healthcare company in Saudi Arabia – a country with a strict ban on alcohol. I mixed with other expats and enjoyed playing a lot of soccer to fill in the spaces between shifts and R&R. One evening after a long game, I joined some of the people with whom I had played soccer, for dinner, and returned to their digs, which were close to my own. I was given a replenishing glass of lemonade – '7-Up' laced with Siddique – homemade and rated at 90-100 % proof. I drank it gratefully down and was drunk in a very short while. I was quite terrified. I made it home and avoided the guards at the military base where my digs were located, for fear my breath would give away the odour of the grog. Thereafter, I didn't drink for the remaining 21 months of my contract and left the desert with a good deposit and an Australian wife.
Settling in Sydney, I quickly found work and over the next 10 years built a solid reputation, gained more qualifications and promotions. I also began to drink – wine, beer & spirits.
After a significant promotion, which led to a highly paid posting in the capital away from family, I began to drink on my own in the evening, and formed a habit which became a need rather than a want.
In 2008, I returned to Sydney to care for my ailing wife – perhaps the darkest period of my life up to that point. And  whilst I had hardly drunk any grog in the eight months of her long and painful demise, after her passing, with time on my hands and being again alone in Canberra, I began to drink again.
In early 2021, a terrible rift with my in-laws over property saw me almost lose everything and after restoring order by mid-year, in what I can recall was a purging of the demons of the past six terrible months, I consumed over the long weekend what would normally have been a month's supply of beer. Having stopped drinking wine in 2017 after seeing my mentor destroy his career by consuming an average 3-4 bottles per night, I had also relinquished spirits two years later after consuming a bottle of good Cognac, received for Father's Day, inside two weekends. Beer had thence become my tipple and some…
Giving up beer, which as mentioned I had first tasted 56 years earlier, was and remains tough, and after that long weekend, I was utterly horrified to see the fridge empty and knew it was time to stop, which on reflection, I initially did with relative ease … though with time the desire for beer remains like a shadow tapping my skull softly yet provocatively. My thirst after hard work in the garden and after a long run or cycle was, for so long, satiated with beer that now, even after five months, I still crave it, which scares as well spurs me to maintain my abstinence, though it can be suffocating.
I have as I write not consumed any alcohol for 20 weeks and my mental health has improved. My physical health too, as I have lost 7 kilos and I'm within 5 kilos of what should be my ideal weight for my age and height.
I miss the taste of beer and possibly always will. I want to maintain sobriety and want to not even give alcohol a second's thought and look forward to the day when I'll forget to mark-up my whiteboard counting the time since my last drink. But that is quite probably a long way off.
Thanks for taking the time to read.
Timcsky