On March, 31st, I clocked up 1,000 days of being alcohol-free. I haven't been one to count or log my days during this experience but when I decided to do the numbers a couple of weeks ago and saw that this milestone wasn't far away, I thought about what my life looked like 1,000 days ago compared with how it looks now and decided that it was definitely a time to reflect and make sense of how I've changed and what I've learned during this time. 
For many years my relationship with alcohol felt unhealthy and problematic. I started binge drinking as a teenager in the 1980s and thirty years later I was still battling to control this destructive cycle of drinking despite my best intentions. 
I felt confused a lot of the time as binge drinking was so normalised and accepted in Australian culture. I wasn't a daily drinker or physically dependent on alcohol. I enjoyed taking part in FebFast and Dry July and didn't find it difficult to stop drinking. I kept convincing myself that binge drinking was normal and that all I needed to do was moderate and get it under control.  
As the years went on, I started to worry more and more about the consequences of my drinking which included blackouts, bed wetting, injuries and out of control conversations and arguments with people that I didn't remember and would have to piece together the next day. 
I had so many mornings waking up with hazy memories of how I got home, forgetting huge chunks of the night and wondering if I'd managed to have my phone and wallet still with me. 
I didn't have an off switch and the tipping point came once I'd have the third drink. I didn't enjoy moderation or having just.one.drink. There was something appealing about the loss of control, the feeling of oblivion and once I started, I found it difficult to stop. 
 During my 40s I became increasingly concerned about my drinking and consequently placed lots of rules around what I could and couldn't do. This included: not drinking during the week, only drinking the one type of alcohol, limiting the number of drinks I could have, avoiding white wine completely and taking two months completely off drinking per year.  
 Although moderation and rules sometimes worked for me. It felt hard. Like a punishment. It meant I was always thinking about what I could and couldn't drink and how far from the 'tipping' point I was. Often, I would end up in a binge at some point, waking up in the all too familiar pit of shame and embarrassment, wondering what I had to do to stop this unhealthy pattern of drinking. 
So, what was the circuit breaker? How did I eventually break the binge drinking cycle? 
Simply – I let go of moderation as the solution. I realised that my sweet spot did not exist within the paradigm of moderation and that I needed to start living without alcohol for an indefinite period.  
In June 2019 I signed up to a 30 day online Live Alcohol Experiment program with This Naked Mind and nominated July 1 as my starting date. And then 55 days later I was thrown the biggest curveball of my life when I was diagnosed with breast cancer at the age of 46.  
In the first two weeks after the diagnosis, the intensity of the trauma caused me to feel vulnerable and the thought of having a drink to numb the pain crossed my mind. I hadn't dealt with any challenges or trauma in my adult life without using alcohol. How was I going to get through this without it?  
'When your mortality is suddenly put under the spotlight
you want to savour each and every moment. It is the ordinary,
simple moments in life that are magical'
One of my initial responses to the diagnosis was to research as much information about breast cancer as I could. This led me to question the role that alcohol had played in my life and whether there was a link to increased breast cancer risk. 
I was shocked at what I discovered. There were over 100 studies that absolutely showed a direct link between alcohol consumption and increased breast cancer risk. I felt uneasy and frustrated that I had never come across this information and wondered why there wasn't a more publicly visible health campaign about this issue given breast cancer is the most commonly diagnosed cancer in Australia and affects over 20,000 people every year.  
As I continued to work through my cancer treatment and recovery, I felt empowered by the choice to reduce my risk of the cancer returning by continuing an alcohol-free lifestyle. 
The experience of breast cancer made me realise that it is the ordinary, simple moments in life that are magical. When your mortality is suddenly put under the spotlight you want to savour each and every moment. Alcohol and drinking take you away from being present in these moments and it was here that I found freedom and a deep sense of gratitude for knowing that my choice to be alcohol free gifted me a greater presence in the fabric of life.  
Watch Kath's full story on Hangouts with Hello Sunday Morning.
August 2022 will mark three years since my diagnosis, and I have no doubt the alcohol-free life I am committed to has provided me with the freedom to rebuild confidence in my health and the opportunity to support others. I spent 6 months last year training to become an alcohol coach and now support men and women who identify as binge drinkers to help breakthrough unhealthy and destructive patterns of drinking. I couldn't think of a better way to celebrate 1,000 days of alcohol-free living than coaching and supporting others.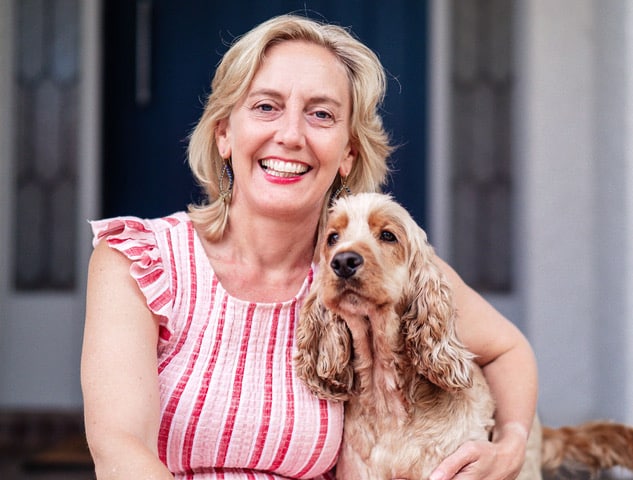 Kath Elliott is a breast cancer survivor who is passionate about raising awareness around the direct links between alcohol consumption and increased breast cancer risk. Kath works as an alcohol coach and has developed a range of body products called My Breast Friend that promote breast cancer awareness. To learn more please follow Kath @mybreastfriendaus. Kath is now over 1,000 days into her alcohol-free journey and believes that this helped her stay present and more grateful for the life that she has.